60 MINUTES | FULL LENGTH COURSE
Stopping the Spiral
Combating Mom-Guilt
This course is about empowering moms - exploring the essential tools to break free from the cycles of negative thoughts that often cloud our daily lives.

We begin this course exploring the struggles many of us face, shedding light on the profound impact of self-doubt and guilt on our emotions and behaviors. We delve into the concept of core beliefs, helping us trace their origins to childhood and how they continue to shape our lives, particularly in the realm of parenting.

Finally, we review practical strategies for changing those negative thoughts and beliefs. Together, we'll practice putting our thoughts on trial, practicing neutrality, and rewriting our mental scripts with a more empowering perspective.
Join me on this journey to regain our inner strength and rediscover the joy in motherhood.
"Wow- it feels like I just took a black-belt self defense class
for my thought life! Carrie was incredible at walking me through my negative thought patterns and using a perfect culmination of questions, images and analogies to help me really understand the concept she was teaching and feel like I truly have a grasp on how I can change!
Seriously shocking at how much I learned about myself and how I can overcome my pattern of mom guilt."
-Shannon G. (mother of 3)
---
What's included?
60 Minutes uniquely blending research and practical approaches to address the guilt that follows us as parents.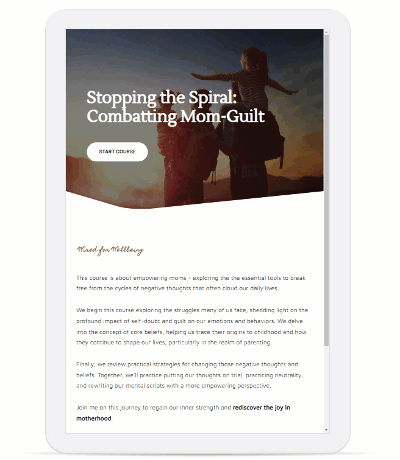 8 Interactive Video Lessons!
Covering topics ranging from A Day in the Life with Mom Guilt, Understanding Our Core Beliefs, Putting Our Thoughts on Trial, and much more!
Practical Support & Tools
Stopping the Spiral: Combating Mom-Guilt is the perfect combination of the research, storytelling, and practical tools you need to cultivate healthy approaches to combat that guilt that follows us around as parents.
Lifetime Access
Stopping the Spiral: Combating Mom-Guilt is yours for life! No subscriptions. No commitments. No strings attached! You don't have to rush to finish this... it's yours forever!
On-Demand
Stopping the Spiral: Combating Mom-Guilt is yours when you need it the most! Learn on-the-go from your cellphone or tablet on your time!
Carrie Thayer, LMFT
Carrie is a Licensed Marriage and Family Therapist with over 11 years experience working specifically with women and children. She currently runs a private practice in Edmonds, Washington where she offers counseling services to women who are experiencing anxiety, depression and life transitions. Her clients vary from new moms to empty nesters and 30 something professionals navigating relationships.

What Does Each Lesson Cover?
Lesson 1: A Day in the Life with Mom Guilt
Have you ever wondered if other moms are struggling in the same ways you are? Or wondered if your thought life is "normal"? In this section you'll see a glimpse into the thought life of the average mom and gain more understanding of the cycle that keeps so many women stuck in negative thoughts. BONUS: Practical prompts and reflection exercises will help you clarify and understand YOUR own personal cycle of thoughts.
Lesson 2: Understanding Our Core Beliefs
Why do you think the way you think? In this section you will learn the connection between your thoughts and the core beliefs you have about yourself, others and the world. By understanding your core beliefs you will learn how they inform you in making decisions, making sense of what happens around you and how you are experiencing motherhood. BONUS: Not sure what your core beliefs are? This section is filled with examples and prompts to help you name and learn what your core beliefs are!
Lesson 3: New Ways of Thinking
This is where we start to hear the good news! Learn the latest research about how and why you don't have to remain stuck in your negative thought cycle. This section is filled with easy and practical ways to change your thoughts (and the way you feel!). Easy and practical meaning...any mom can do these things in the car, at work, at home or hiding in the bathroom.
You're normal! You got this!
Created with