3.5 Hours | MasterClass | On-DEMAND
The Masterclass in
Mindful Parenting
Let's be honest... parenting is hard and we could all use some support.
Well, I've got good news and bad news.


So... the bad news first, right? When we aren't conscious of our parenting choices we can unintentionally hurt our children and strain our relationship with them for years to come. In my private practice, I work with countless middle-aged, good men and women who are actively trying to repair decades of wounding with their adult children. These parents live in chronic regret. Their children live in chronic resentment. It is heartbreaking.


BUT! (And this is the good news!) You don't have to fall into that category, and it's not too late to start repairing. You can start parenting in a way that builds a relationship with your child NOW AND will help support their mental health outcomes, future relationship satisfaction, and connection with YOU in decades to come.
In this course, I will teach you neuro-informed, evidenced-based skills for raising healthy, resilient children. I will help you become more conscious of your parenting choices. We will start understanding WHY your kid triggers you and how to navigate those tricky moments more effectively. I'll give you practical strategies that will help with difficult behaviors. I'll help you start parenting with intentionality and stop parenting on autopilot.


But really, here's my main goal: I want to help you raise thriving kids who are mentally and emotionally healthy as adults and feel connected to you in years to come. I want your kids to WANT to go home during the holidays. I want you to raise kids who say, "My parents love me and get me." Kids who see you as safe. Kids who want to be around you.

I'm inspired by your commitment to your family and your children.

You are the cycle-breakers.
---
The course and the theories are based on the neurological portion of child development and help to teach what it means to hold a valuable, safe space for the ones we love. It allowed me to better understand what may be causing BIG reactions or no reaction at all when my kids behave in a way that I don't know what to do with— how to support them better than I had been.
- Karen Mitchell
What's included?
3.5 hours uniquely blending research and practical strategies for the mindful parent.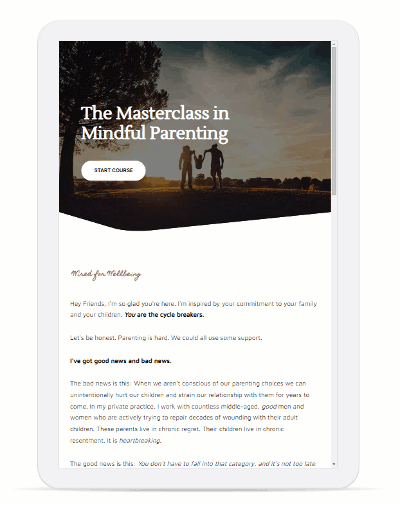 27 Video Lessons!
Covering topics ranging from Attachment Theory, Building Confidence and Resilience, What if my kid calls me a B*tch?, How to Handle Bedtime Peacefully, and much more!
Practical Support & Tools
The Masterclass is the perfect combination of the research and practical tools you need to cultivate calm and connection at home and to navigate those tricky behaviors more effectively.
Simplified Research!
I've done the research for you! This class is founded on the work of the top researchers on Child Development and Nervous System Regulation (including research from Stephen Porges, Dan Siegel, Hans Seyle, John Bowlby & Mary Ainsworth).
Lifetime Access
The Masterclass is yours for life! No subscriptions. No commitments. No strings attached! You don't have to rush to finish this... it's yours forever!
9 Interactive Workshops
The Masterclass is built with engagement in mind! All nine workshops are built on a media-rich and interactive platform!
On-Demand
The Masterclass is yours when you need it the most! Learn on-the-go from your cellphone or tablet on your time!
The Masterclass Covers everything from...
The Theory to the Practical
Attachment & Coregulation
Attachment is the process of building a safe, responsive and attuned relationship with our child. One that supports them as they take healthy risks, fail and try again.
What to do with those BIG Emotions?
When we acknowledge children's feelings and name big emotions, we are helping them figure out what is happening inside their bodies.
Reviews for
The Masterclass in Mindful Parenting
From Karen M.
Mother of Two - Denver, CO
"This is for all sorts of parenting types. This is for parents who feel disconnected from their children or even from themselves inside of parenting, it's for parents who are caught somewhere between I don't want to respond to my children's actions in this way or their attitudes with an attitude but I don't know what else to do, for the parent who feels their child is apathetic or unresponsive to the threats, the consequence or casual conversation. The WHOLE POINT of the course is to create healthy connection between parent and child. I'm telling you, I wish I had taken the course when our babies were actual babies."
From Michelle T.
Mother of THree - Phoenix, AZ
"This is a course for every parent that wants to be their best parenting self, and for every kid, no matter how "easy" you think they might be. This course surprised me in what my goals looked like for my family, in where those stemmed from and forced me to sit with questions that I have never asked myself before - and going into this course I expected nothing new, as I have take multiple courses in the past and have read all the things… Kelly's voice is judgement free, her tone is soothing, her relatability and imperfections in her own parenting are humorously relatable and she comes from a place of compassion throughout each interaction. This course is an investment full of content I went back through and read over and over again because every line was saturated with information, suggestion and thought. No matter your "parenting style" this is a foundational course that I wish I had taken before having children, and yet, I'm confident in my ability to repair and move forward as the best Mom I can be."
Kelly LaPorta, LMFT | Nervous System Coach
Kelly LaPorta is a Licensed Marriage and Family Therapist, Executive Coach, and Trained Nervous System Professional. She is a founder of Wired for Wellbeing and currently owns and operates a thriving private practice in Scottsdale, Arizona where she offers therapy and coaching to successful professionals, entrepreneurs, professional athletes, and CEOs that are getting 'stuck' (relationally, personally and vocationally) due to mental health issues and emotional blocks.

Kelly resides in Phoenix, AZ.
Jessica Johnson | Parenting Coach
Jess Johnson is one of the parenting coaches with Wired for Wellbeing. She has been a remarkable addition to the Three Weeks to Calm and Connection Cohort where she coaches parents in a 3 week intensive alongside Kelly LaPorta. We can't recommend her highly enough! She is safe, understanding, incredibly thoughtful and intentional, and profoundly impacts those in her sphere of influence.

In addition to coaching, Jess is busy homeschooling her 3 kids, and leading a classical education homeschool group where (once a week) she teaches 6th graders science, history, Latin, fine arts, geography, public speaking and math.

Jess resides in Seattle, WA.
How Will Each Workshop
Help Me?
Workshop 1: Family Values & Vision
Having a clear vision is crucial as we enter this journey because it will help us focus on what truly matters - in this instance, raising emotionally resilient children who will thrive as content, connected, and fulfilled adults.
Workshop 2: Where I Came From...
Our childhood sort of serves as the blueprint of what to expect in life. Our early experiences become the inner map to navigate the world and relationships. We unconsciously absorb so many rules about the world and others through our childhood. It is so important to examine our beliefs and determine if they are working for our family and will work for our long-term well-being.
Workshop 3: A New Parenting Paradigm
Without even knowing it most of us have raised our kids under a psychological framework called Behaviorism. Behaviorism is actually a theory in psychology that has become largely recognized due to its ability to produce very clear and observable outcomes in scientific studies (which is a difficult task in the psychological field). Let's examine how Behaviorism is rooted in our own lives and determine the upsides, downsides, and alternatives to this approach.
Workshop 4: Attachment & Coregulation
My goal is to teach you THE most important parenting skill you will ever learn. This tool has decades of clinically supported research and has the power to change the trajectory of your child's life. This is the tool therapist know and use in every family therapy session (usually because it just wasn't introduced to parents early and they are now repairing old wounds).
Workshop 5: Understanding Your Child's Stress Response
Have you ever looked at your child in total bewilderment – wholly baffled about how they can go from 0 to 100 in milliseconds? How does a compliant, polite, and cooperative child turn a switch SO quickly and become a total WILD child at the drop of a hat? Let's explore the ins-and-outs of a child's stress response.
Workshop 6: Adjusting Expectations & Understanding Your Child
Let's talk about expectations. Expectations are created by societal narratives that determine what is appropriate and inappropriate behavior. Expectations differ from culture to culture, family to family, and even parent to parent. Part of the reason parents feel so much dysregulation is because we have expectations for our kid that are unrealistic and then when our kids don't meet those expectations we become angry and frustrated – we feel stressed inside.
Workshop 7: Timing is Everything
In this lesson we talk about something really important.... timing and parenting. When do we need to hold a firm boundary, and offer a logical consequence and when is it more appropriate to focus on offering love, connection and support first? When do we sort of need a hybrid of those things?
Workshop 8: Finding Your Own Joy and Calm as a Parent
One of the biggest questions I get asked by overwhelmed parents is this: "Kelly How Can I Stop Losing it at my kids? I feel so dysregulated all the time. I don't want to yell or scream but in the heat of the moment I just can't help it!" In this worskhop, my goal is to help you build your capacity and regulation skills.
Workshop 9: Bringing it All Together?
We are going to finish our Masterclass by bringing everything together, and creating an action plan for you moving forward. I know when you end these types of courses it can feel a bit startling – like "now I have all this information – what next?"
Created with